1/1
Lithium-based concrete densifier
Quick Details
Supply Ability:
99 barrel per week
Quick Details
country of origin

China

classification

Water glass

Main ingredients

Inorganic salt

Application field

Building materials store, repair shop, production workshop, retail industry, construction site, energy and minerals

model

C801

Packing

plastic barrel

weight

25/250/1000KG
Lithium-based concrete sealing curing agent,liquid concrete floor hardener sealer and densifier
Product Information
Product Name
Concrete sealing curing agent c-806 nano type
Product introduction
Kronever nano type concrete sealing curing agent is a new generation of concrete hardener, which is produced by using advanced scientific research technology. Its particle diameter reaches micro nano level and has strong permeability. The appearance of the product is colorless and transparent liquid, with the characteristics of non-toxic, non combustible, non radioactive substances, VOC content of 0, easy to use and so on. Through effective infiltration and chemical reaction with weak chemical components in concrete and stone, various components in concrete can be solidified into a whole solid body (commonly known as toughened body), so as to obtain a dust-free and compact whole, effectively improve the strength and density. Its special molecular structure fundamentally solves the problem of "dust and sand" caused by long-term use of concrete floor "Intensity difference" and so on. After grinding, this product will give out charming luster like marble for a long time.
Product Description
Colorless transparent liquid, tasteless, non-toxic, in line with VOC standards
Scope of application
It is widely used in industrial ground which must be wear-resistant and dust-proof, such as warehouse, wharf, factory building, parking lot, maintenance workshop, garage, etc.; ground which must be highly wear-resistant and other heavy machinery walking places; anti tide basement; weathering open space or passageway, etc.
Function
Improve the original ground strength, anti slip, wear-resistant, anti weathering, bright
Certifications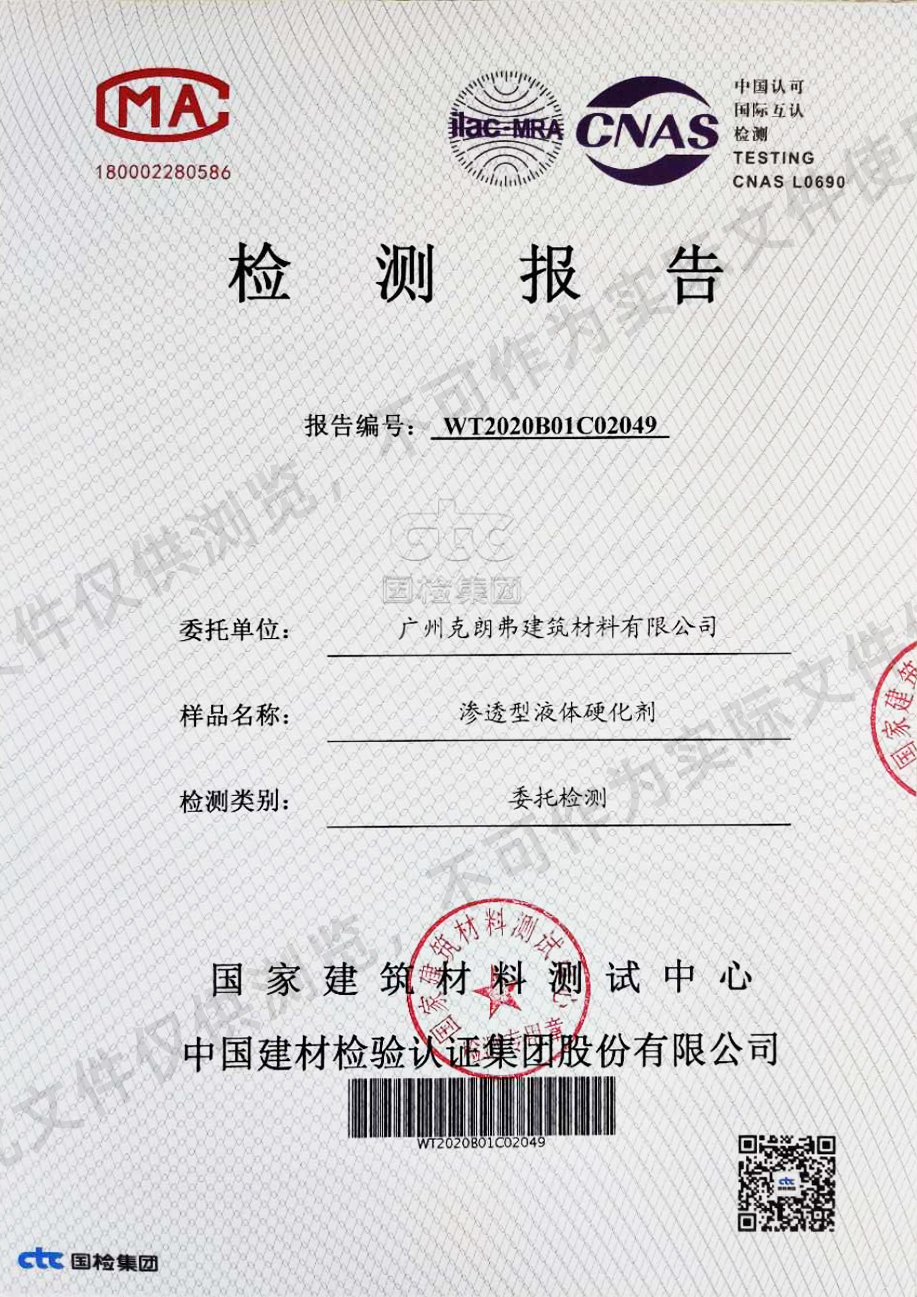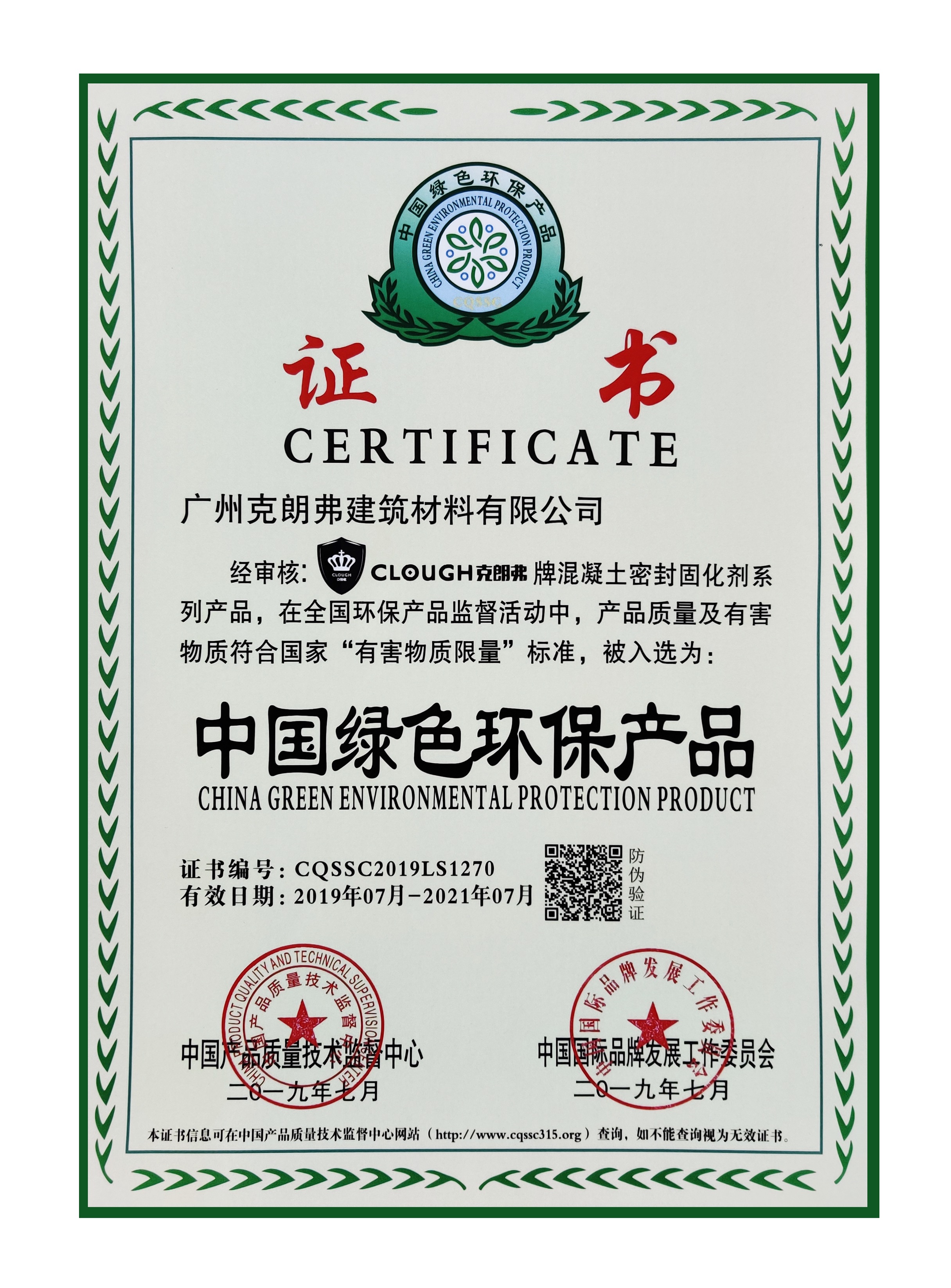 Customization
Customized logo(Min. Order: 20 Pieces)
Customized packaging(Min. Order: 20 Pieces)
Graphic customization(Min. Order: 20 Pieces)
Performance flooring materials
Epoxy floor
Wear-resistant floor
Terrazzo
Seal curing agent
Performance
Dustproof effect
Dust free
Reduce dust free
Reduce dust free
Dust free
Wear resistance
2.3
4.6
3.3
6.2
Moh's hardness
2-3
6-7
4
8-10
Anti-infiltration
0Ml/H
200Ml/H
250Ml/H
0.055Ml/H
Anti-aging
3-5years
5-8years
5-8years
More than 50 years
Warranty
1year
3years
3years
At least 20 years
Construction features
Construction method
Multiple layers multiple times
Throwing machine
Water mill
Spray or roll
Duration
After the new floor is dried for 28 days, the construction is about 500M2 per day.
Simultaneously with concrete pouring, about 1000M2 per day
Long construction period, 30 days per 3000m2
After maintenance with concrete
About 2000M2 per day
Maintenance period
One week
14 days
3 days
3 hours after construction is completed
7 days can carry
safety
Slightly toxic and irritating, construction requires fire protection
More dust,
Too many pollutants in construction, not environmentally friendly
Comply with all VOC rules
Environmental protection
Not environmentally friendly
Construction personnel need to do protection
Non-toxic, non-combustible, environmentally friendly
basic requirements
Can only be used on new ground
no request
Both new and old floors are available
Otherwise easy to shell
Old ground cannot be used
No waterproof requirements
Operation and Maintenance
Clean
Oil stains and black scratches are not easy to clean
Oily and easy to seep
Oily and easy to seep
Not easy to seep and easy to clean
Difficult to clean
Difficult to clean
Maintenance and
Easy to shell, easy to leave black scratches, more and more old
Maintenance trouble
More dust is used
Hard to wear, not shell,
Vulnerability
Easy to leave black scratches
Easy to break at the spacer
The longer the use time, the brighter it is.
replace
2-3 years (cheap material 1-2 years) repaint once
3-5 years of heavy construction
Replaced in about 10 years
Semi-permanent,
cost
Same cycle as building
Maintenance and
Need to be waxed
Need to be waxed
Need to be waxed
Never need to wax,
Maintenance costs
2 RMB / M2 each times
2 RMB / M2 each times
2 RMB / M2 each times
Just need to wash water or wash with soapy water
About Us
FAQ
Q: What's your shipping?
A: We support Express · Sea freight · Land freight.
Q: Do you support OEM service?
A: Yes, it is available
Q:What are the advantages of your products compared with other products?
A:Our products are excellent in terms of productivity, handling, reliability and construction results. Products warranty for 3 years, however other grinder brand warranty is only 1 year.

Q:Are the grinders will come with accessories?
A:es,all the grinders include tool box and necessary accessories.

Q:Can the grinders bi used for polishing?
A:Yes,of course. They can do both grinding and polishing.
Q: What's your payment?
A: We accept L/C,D/P,T/T.

Q :Can you customize the machine for the customer?
A:Yes. We can, we also provide OEM for customers; If you need customized services, please contact us.