1/1
non-toxic transparent colorless concrete sealing densifier
Quick Details
Supply Ability:
99 barrel per week
Quick Details
country of origin

China

classification

Water glass

Main ingredients

Inorganic salt

Application field

Building materials store, repair shop, production workshop, retail industry, construction site, energy and minerals

model

C503

Packing

plastic barrel

weight

25/250/1000KG
Wholesale non-toxic transparent colorless concrete sealing densifier for sale factory
Product Information
Product Name
Concrete sealing curing agent c-806 nano type
Product introduction
Kronever nano type concrete sealing curing agent is a new generation of concrete hardener, which is produced by using advanced scientific research technology. Its particle diameter reaches micro nano level and has strong permeability. The appearance of the product is colorless and transparent liquid, with the characteristics of non-toxic, non combustible, non radioactive substances, VOC content of 0, easy to use and so on. Through effective infiltration and chemical reaction with weak chemical components in concrete and stone, various components in concrete can be solidified into a whole solid body (commonly known as toughened body), so as to obtain a dust-free and compact whole, effectively improve the strength and density. Its special molecular structure fundamentally solves the problem of "dust and sand" caused by long-term use of concrete floor "Intensity difference" and so on. After grinding, this product will give out charming luster like marble for a long time.
Product Description
Colorless transparent liquid, tasteless, non-toxic, in line with VOC standards
Scope of application
It is widely used in industrial ground which must be wear-resistant and dust-proof, such as warehouse, wharf, factory building, parking lot, maintenance workshop, garage, etc.; ground which must be highly wear-resistant and other heavy machinery walking places; anti tide basement; weathering open space or passageway, etc.
Function
Improve the original ground strength, anti slip, wear-resistant, anti weathering, bright
Certifications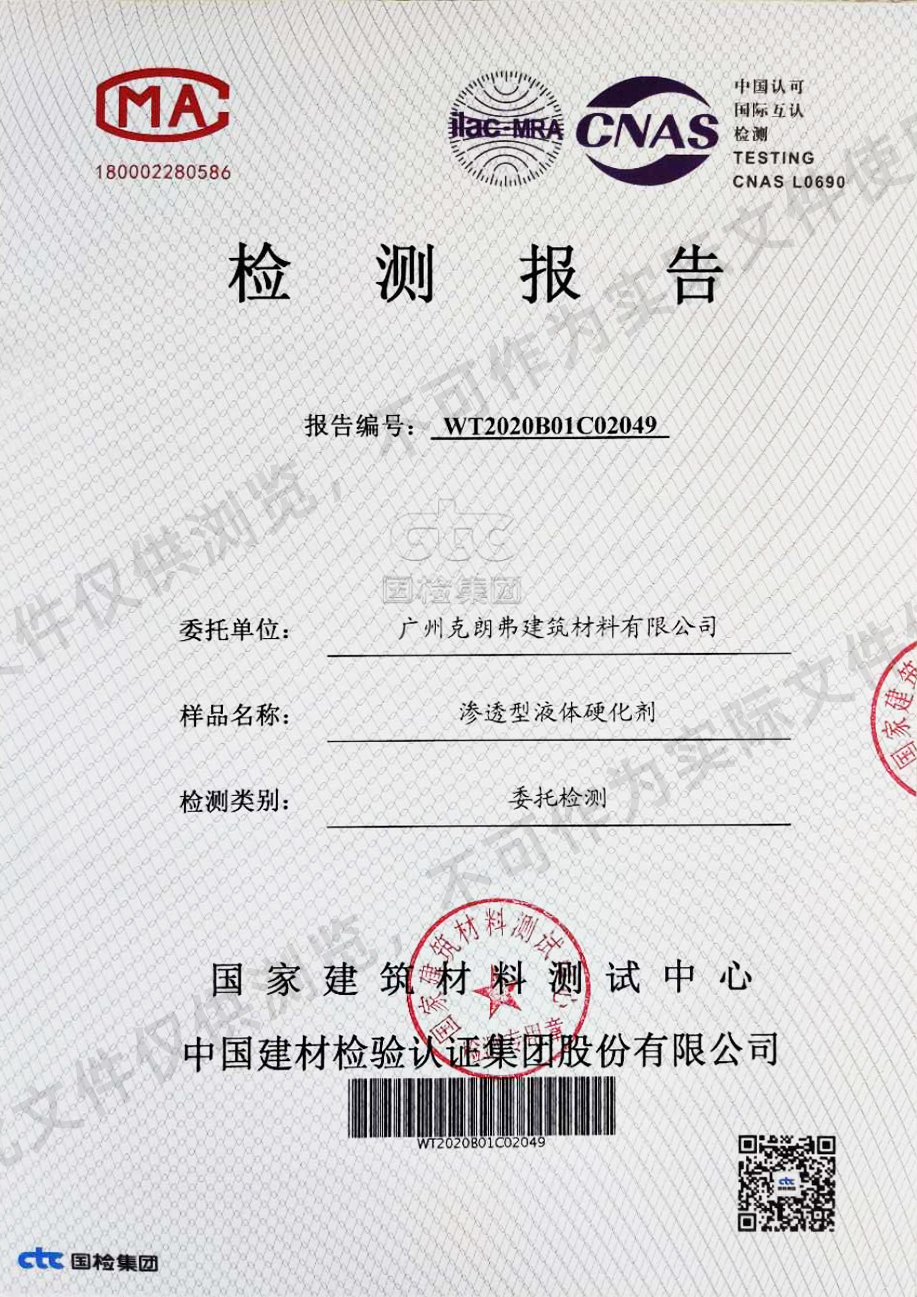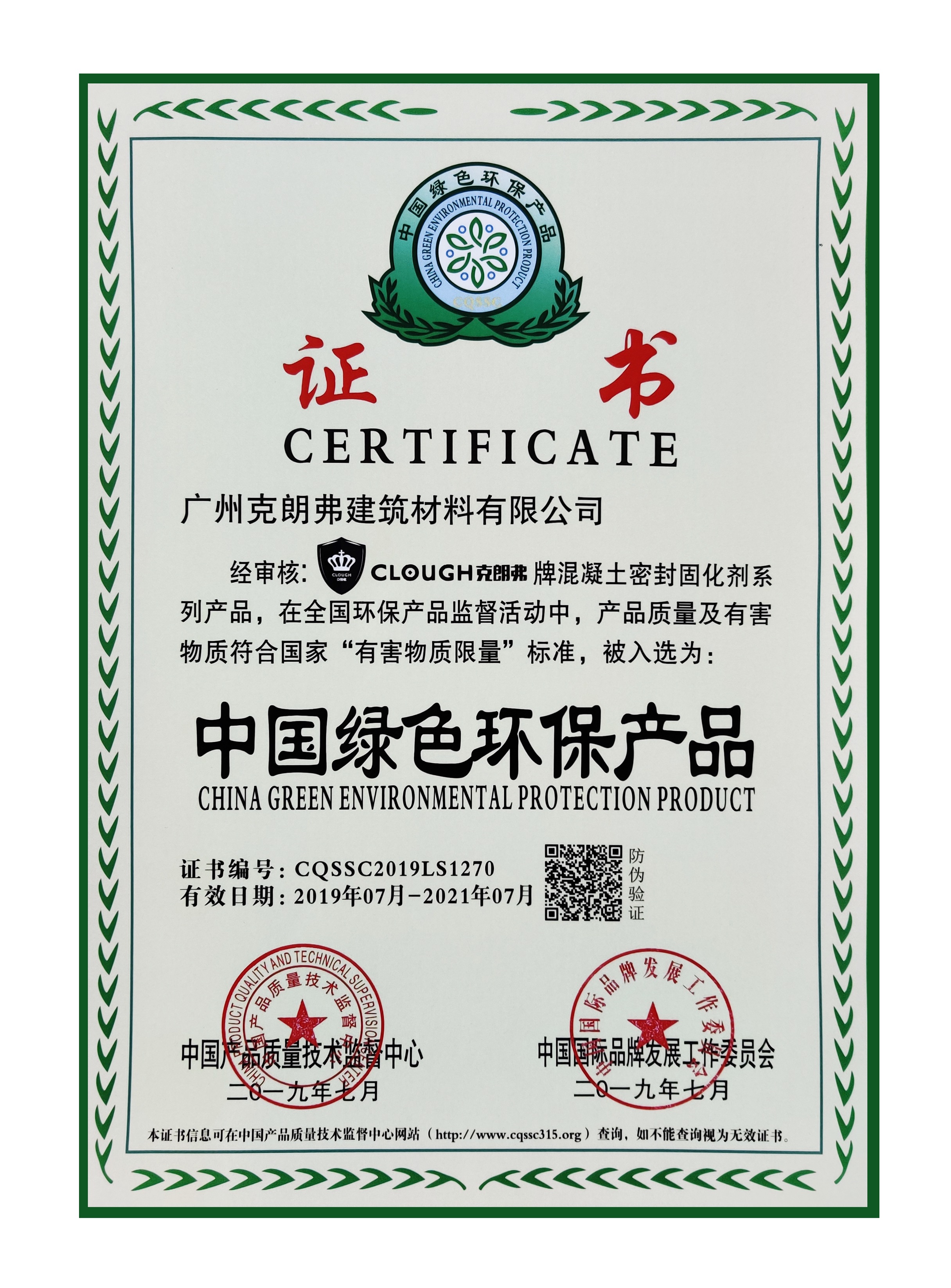 Ten features of product performance


1. Abrasion resistance: KAIDA concrete seal curing agent can solidify various components in concrete into a hard body, increasing hardness and compactness. After curing with CFS concrete seal curing agent, the wear resistance is increased by more than 6 times.
2. Hardening: After treatment with KAIDA concrete seal curing agent, Mohs hardness > 8, Mohs hardness increased by 33.3%.
3. Impermeability: KAIDA concrete seal curing agent can effectively penetrate into the concrete and chemically react with it to lock the pores inside, and have a permanent sealing effect on the concrete surface, which can effectively inhibit water, oil and other surface pollution. The object enters the concrete.
4. Environmental protection: KAIDA concrete sealing curing agent is a kind of concrete sealing, dustproof and wear-resistant hardening agent. It is colorless, odorless, non-toxic and non-combustible. It can make concrete concrete and dustproof; it can prevent moisture and oil from penetrating. Alkalinization, weathering, etc.
5. Dust-proof: KAIDA concrete seal curing agent chemically reacts with salt in concrete to form a dust-free and dense whole on the concrete surface, permanently preventing concrete dust from separating from surface voids.
6. Compressive pressure: The compressive strength of the treated sample was 27.3% higher than that of the untreated sample. The flexural strength is increased by more than 3 times.
7. Maintenance: KAIDA concrete seal curing agent can penetrate into the concrete surface to form an anti-seepage seal that can reduce surface water loss to ensure adequate and uniform maintenance.
8. Anti-weathering: UV and water spray have no adverse effect on the treated sample. It can effectively prevent the passage of chloride ions. Tests show that the treated ground will not be affected by exposure to electromagnetic or water mist.
9. Chemical resistance: After treatment with KAIDA concrete seal curing agent, the chemical resistance of concrete is greatly improved.
10. Gloss (but not slippery): The concrete floor treated with KAIDA concrete seal curing agent will have a marble-like luster. The longer the gloss, the better the gloss. But it does not slip. On the general concrete floor, the salt and alkali components will precipitate from the surface, causing slippage. However, the KAIDA floor is different. It forms a strong, dense whole on the concrete surface, and the salt and alkali components do not precipitate from the surface.
Customization
Customized logo(Min. Order: 20 Pieces)
Customized packaging(Min. Order: 20 Pieces)
Graphic customization(Min. Order: 20 Pieces)
About Us
Treat each other frankly, intelligently and innovatively, and strict quality; Craftsman spirit, meticulous craftsmanship, keep improving. Guangdong Tangong Machinery Manufacturing Co., Ltd. is an enterprise focusing on R&D, production and sales of floor grinding machinery. Our company has strong technical strength, has many professional mechanical design engineers, based on intelligent manufacturing system, deeply integrates new technologies such as cloud computing and big data with product design and production management, strict quality requirements, high-precision processing technology, and rich experience The production and manufacturing technical team, intelligent innovation, promote the spirit of craftsmanship, integrate the spirit of craftsmanship into design, trial production, test machine, performance improvement, and mass production in every link. High-quality floor grinding machinery and equipment provide first-class products and OEM services for domestic and foreign customers.
FAQ
Q: What's your shipping?
A: We support Express · Sea freight · Land freight.
Q: Do you support OEM service?
A: Yes, it is available
Q:What are the advantages of your products compared with other products?
A:Our products are excellent in terms of productivity, handling, reliability and construction results. Products warranty for 3 years, however other grinder brand warranty is only 1 year.

Q:Are the grinders will come with accessories?
A:es,all the grinders include tool box and necessary accessories.

Q:Can the grinders bi used for polishing?
A:Yes,of course. They can do both grinding and polishing.
Q: What's your payment?
A: We accept L/C,D/P,T/T.

Q :Can you customize the machine for the customer?
A:Yes. We can, we also provide OEM for customers; If you need customized services, please contact us.